Volunteers' Role
If you have a passion for helping the poor and giving back to your community, volunteer with SSVP London! The success of our stores is dependent on the help and support of our volunteers, serving in various role and capacities.

If you have just a few hours to spare a month or a regular day every week, we invite you to contact us. Would you like to make an impact by assisting the less fortunate in your area or learn a new skill? We are looking for people like you. We are also able to give out volunteer hours required to fulfill middle school and high school graduation requirements.

We have volunteer opportunities in customer service, donation receiving and sorting, and merchandising. You'll be matched with what you would like to do.

We are looking for volunteers at both of our thrift stores, at 585 York Street and 1005 Elias Street.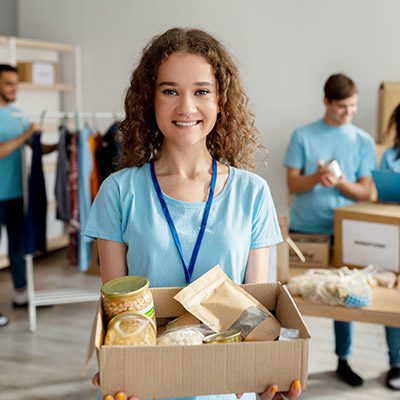 Volunteer Position Urgently Needed
Cashiers
Sorters
Small Appliance Inspectors
It's easy to get involved. Simply connect with us online by sending an email to our store manager at stvincentstore@gmail.com, by calling our York Street store at (519) 438-7071, or by stopping in to see us at 585 York Street. We provide all the training you need to join our team and get started. Take a look at what some of our volunteers have to say.
York Street Thrift Store
585 York Street, London, ON N6B 1R6
(519) 438-7071
Mon to Fri: 9am - 5pm
View on map
Interested In Volunteering?
Contact us if you are interested in volunteering.
Contact us