Our Story
The operation of our retail thrift stores is a fulfillment of a mandated function of the Society of Saint Vincent de Paul: to serve the poor. We offer a variety of items, including clothing, furniture, household goods, toys, electronics, and accessories. Necessary items are provided free to those in need who have been assessed and visited by one of our volunteers from a local church. Revenue from the sale of excess donations that are available at our stores is used to pay the expenses to keep the business operations open.

Initially, providing clothing and other items was handled by local Vincentians with the assistance of the local SSVP and the Provincial Council. These projects led to the creation of thrift stores at various locations.

Today the thrift stores operate at two locations in London: 585 York St. since 1972 and 1005 Elias St., which opened in 1996.
Our mission remains the same as in the beginning: "To live the Gospel message by serving Christ in the poor with love, respect, justice, and joy." Our goal is to provide quality used goods at a low cost in a friendly, clean environment.
Our slogan and promise:
Serving our community in all possible ways.
Blue Tag Pricing
Look for the blue tags on our clothing, household items, and furniture both in store and online. As a non-profit organization, our prices are very attractive and affordable. When you see the blue tags, you know that you are shopping at St. Vincent de Paul Store(s)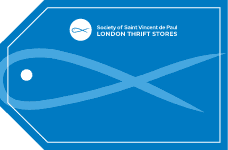 Living Wage
We participate in the Ontario Living Wage program. A living wage is the hourly wage a worker needs to earn to cover their basic expenses and participate in their community. It is recalculated periodically to ensure that it accurately reflects changing living expenses. This rate is higher than the minimum wage. We recognize that paying a living wage constitutes a critical investment in the long-term prosperity of the economy by fostering a dedicated, skilled, and healthy workforce.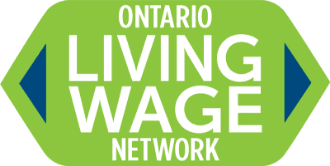 How can we help?
Through the SSVP London Particular Council and individual conferences (churches), we offer a program that provides families and individuals in need with clothing, household items, and furniture by way of a voucher system.
Learn more