Whether you are looking for unique fashion finds, basic items for your family, home décor, or furniture, you can find everything you are looking for at our SSVP Thrift Store(s). Look for our blue tags both instore and online.

As a non-profit organization, our prices are very attractive and affordable. When you see the blue tags, you know that you are shopping at a St. Vincent de Paul Store. Our helpful sales associates are always available to point out new arrivals and help you find items within your budget.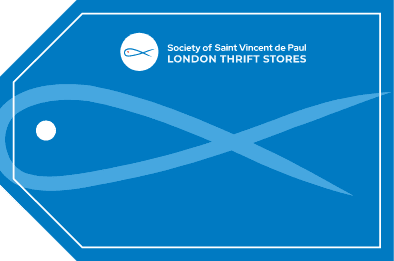 Furniture
Housewares
Clothing
Media
Artwork
Vintage Venue
Unique Boutique
New Mattresses
Box Spring Leg Instructions
We invite you to come in and see our great selection of furniture, which arrives on our store floors every day.
Delivery
Delivery is available for $40.
Our large selection of household items includes beautiful dishes, housewares, and décor. We also carry a variety of small appliances, which may include toasters, microwaves, blenders, and/or irons.
We have an extensive selection of clothing items, from infant-wear to adult sizes. Our collection of accessories includes handbags, Jewellery, footwear, and scarves.
We carry a wide assortment of books, music and movies, including CDs, DVDs, and cassettes. TVs, stereos, and records are often available.
Both locations have a great assortment of artwork. Visit the gallery of artwork upstairs at the York St location.
Our Elias St. Store has a great selection of vintage items.
The York St Store has a great area called the Unique Boutique. Check out all the one of a kind items.
We have some of the best prices in the city for new mattresses and box springs. Visit us at either store location for details. Prices for single, double, queen, or king sets range from $190 to $615 each. Choose from three different types of mattresses.
Legs are included when you purchase a box spring. We also have bed bug covers available for purchase. Right click on the video and open it in a new window.